When it comes to Website Design, WordPress Development, and Digital Marketing A/B Testing is a crucial, yet often skipped step of the process.
What is A/B Testing and what does it mean for website design etc.
A/B Testing is scientifically comparing and measuring two versions of the same element against each other.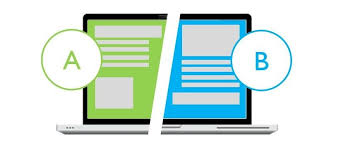 What items are important to A/B Test?
You can A/B test almost anything on your site or your marketing. Below we list the important things to test, but one thing to always remember is not to test too many items.
If you test too much at the same time, you will muddy the data collected and will not provide you with any conclusive results.
The items we like to constantly test are:
Call to action messaging
Pop-up content
Content headlines
Images
Image sizes
All button copy
Tone & Voice
Colors
Our favorite A/B Testing tools
Google Optimize
Optimizely
Optinmonster (For pop-ups)
When you test items you begin to understand what copy, images and color resonate with your site's audience. Understanding what works allows you to give your audience what matters to them and in turn will make your site more effective for your visitors. It's important to set a good time limit, to achieve a good sample audience and get conclusive results. Once you learn more about what works with your audience run with it and begin testing the next items.
Review refine repeat always and as necessary.